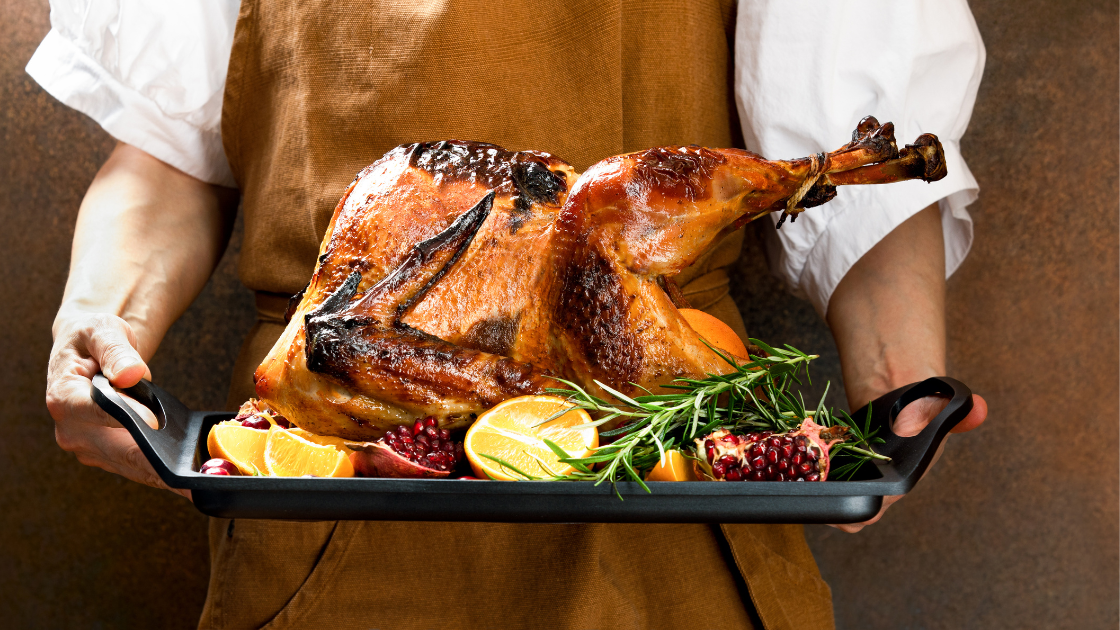 Thanksgiving Turkey Wood Fired
Ingredients
1 whole turkey (about 12-14 pounds)
For the Brine:

1 gallon water
1 cup kosher salt
1/2 cup brown sugar
1 tablespoon black peppercorns
1 tablespoon allspice berries
4 bay leaves
1 orange, quartered

For the Herb Butter Rub:

1 cup unsalted butter, softened
3 tablespoons fresh rosemary, finely chopped
3 tablespoons fresh thyme, finely chopped
3 tablespoons fresh sage, finely chopped
2 garlic cloves, minced
Zest of 1 lemon
Salt and pepper to taste
Instuctions
Brining the Turkey
Prepare the Brine: In a large pot, combine water, kosher salt, brown sugar, peppercorns, allspice berries, bay leaves, and orange quarters. Bring to a boil, then cool completely.
Brine the Turkey: Place the turkey in a large container. Pour the cooled brine over the turkey, ensuring it's completely submerged. Cover and refrigerate for 12-24 hours.
Preparing the Turkey
Preheat the Wood-Burning Pizza Oven: Aim for a temperature around 325°F (163°C). This might take some time, so plan accordingly.
Make the Herb Butter Rub: Mix together the softened butter, rosemary, thyme, sage, minced garlic, lemon zest, salt, and pepper.
Prepare the Turkey: Remove the turkey from the brine, rinse under cold water, and pat dry. Loosen the skin over the breast and thighs and rub a generous amount of the herb butter under and over the skin.
Cooking the Turkey
Cook in the Pizza Oven: Place the turkey in a roasting pan and set it in the pizza oven. Cook for approximately 2.5 to 3 hours, or until the internal temperature of the turkey reaches 165°F (74°C) in the thickest part of the breast. Baste the turkey occasionally with the pan juices.
Rest the Turkey: Once cooked, remove the turkey from the oven and let it rest for about 20 minutes before carving.
Safety Tips
Handling the Oven: Always use heat-resistant gloves when handling the pizza oven door or tools.
Temperature Monitoring: Use an oven thermometer to monitor the temperature inside the pizza oven.
Ventilation: Ensure proper ventilation while using the wood-burning pizza oven to avoid smoke accumulation.
Enjoy your Thanksgiving feast with this uniquely flavored and perfectly roasted turkey from your wood-burning pizza oven!